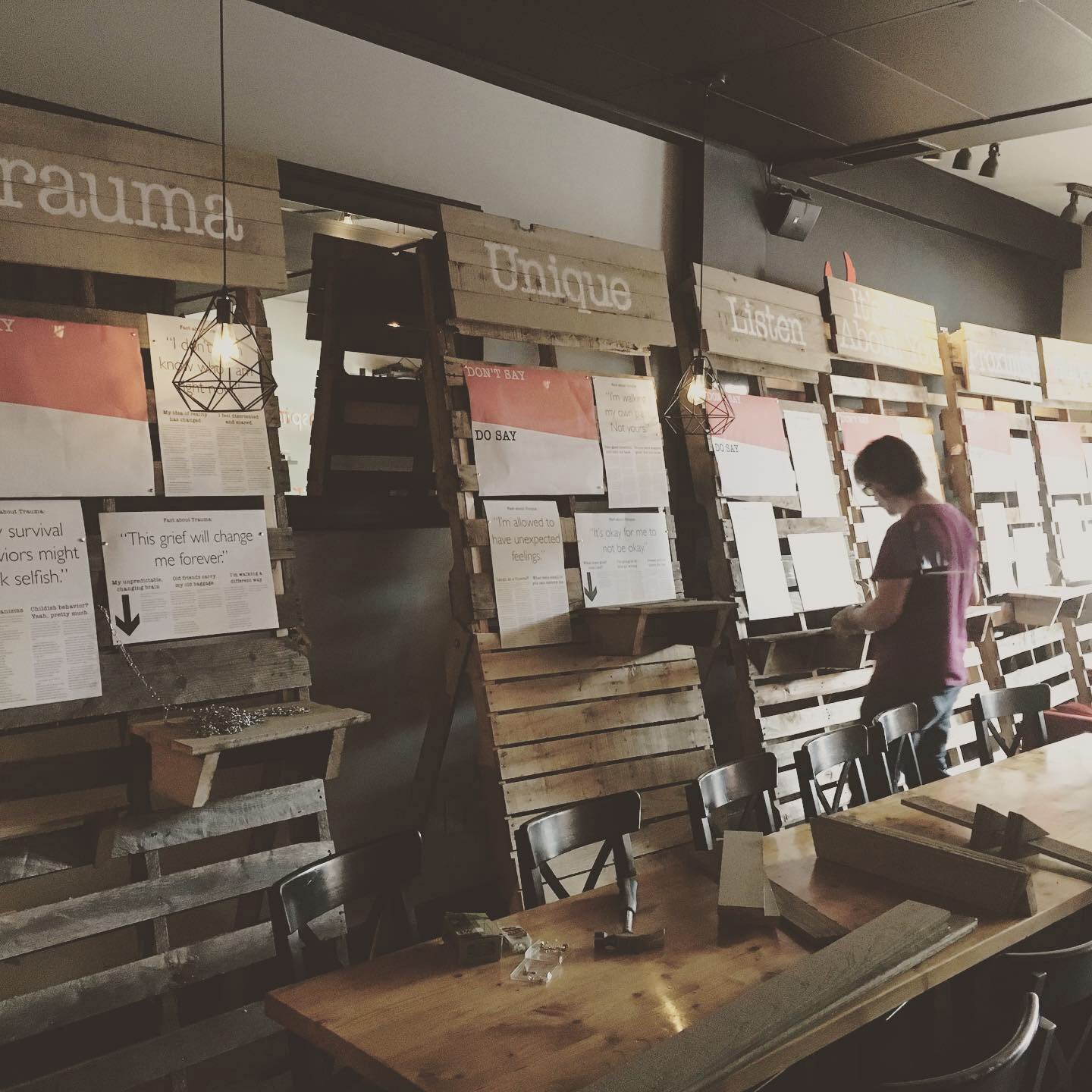 My design program's senior capstone project invited risk. "You'll never get a chance like this again," our professors told us, "so make the most of it." I took them seriously. I proposed an interactive exhibit based on my wife's and my loss of our first child four years earlier, along with my first- and second-hand research into grief. My exhibit and conversation space proposed an alternative to typical grief support: instead of speaking directly to those affected by loss, I sought to help those vulnerable individuals by targeting their grief adjacents—individuals who may not have lost a loved one themselves, but who wished to support others who had—presenting concise tools for communicating with grief survivors in their community.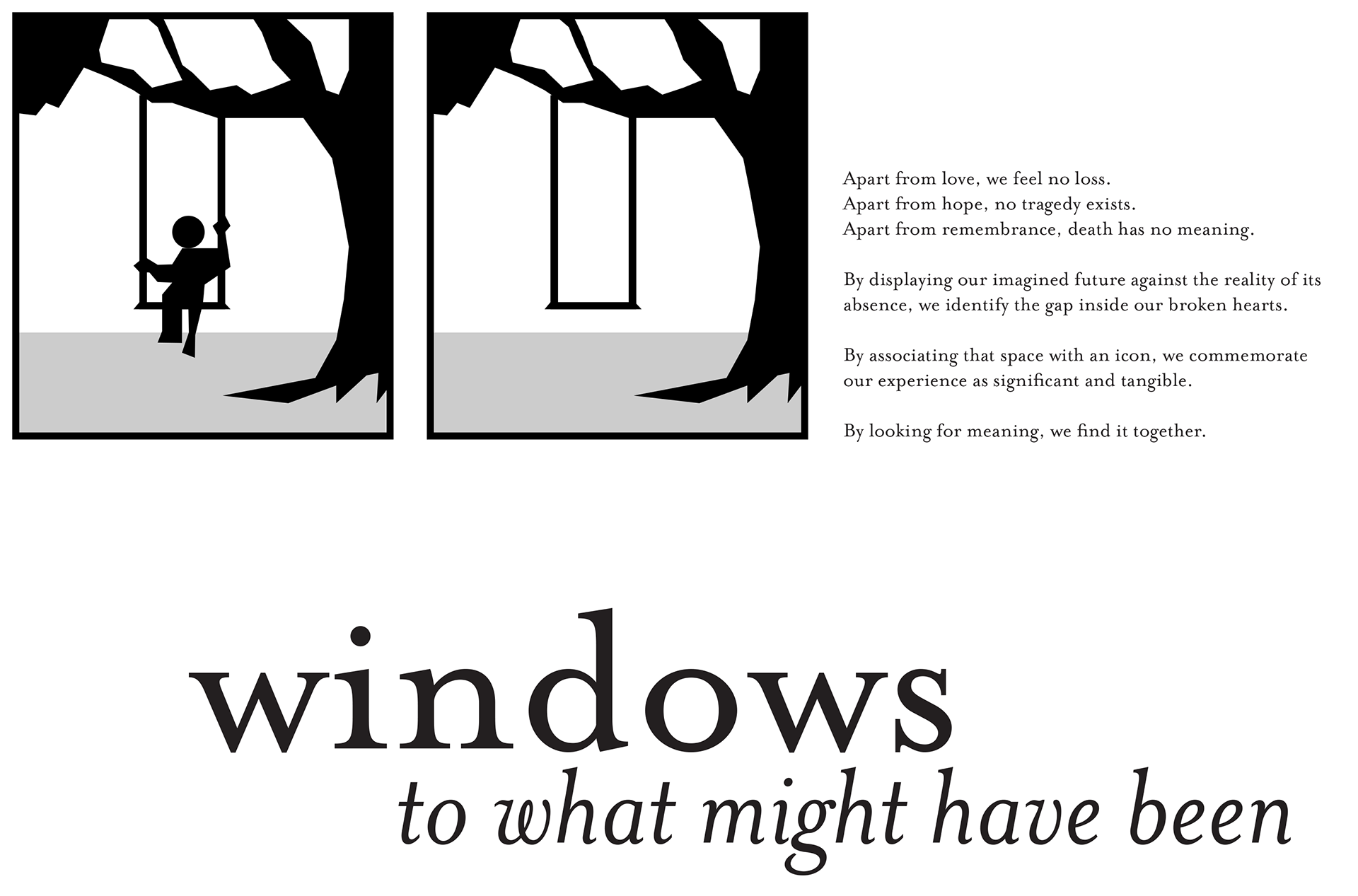 As a generation, my peers struggle to talk about grief—their own or anyone else's. My studies into longitudinal behavioral research showed American young people less resilient against devastating emotional effects at the loss of a loved one, and less likely to seek support from those around them, than previous generations. In my own experience of loss many friends and family members who wished to help actually caused greater harm, and many others simply avoided us. I designed my exhibit to better support grieving individuals by educating and empowering their community to initiate in helpful ways.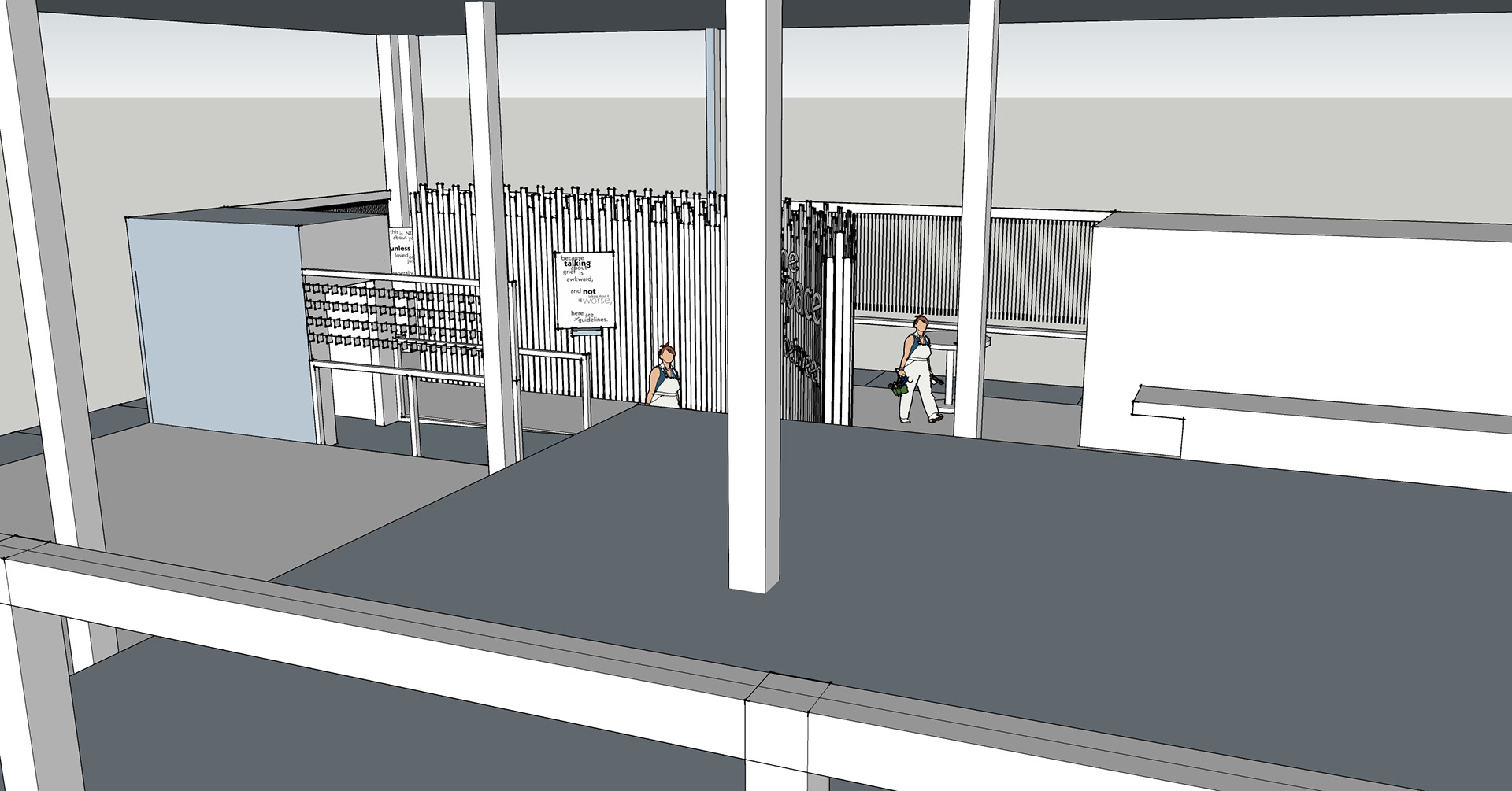 Based on my initial demographics, I selected a familiar site to young professionals in Seattle: a bar. If they were going to endure difficult conversations, I reasoned, they should feel more comfortable in a venue designed for conversation while holding a drink. Another option I considered was bringing the exhibit to its target viewers in hospitals; given my limited timeframe and the red tape involved, I took my advisors' suggestion and found a venue with less bureaucracy to stage my prototype.
Using principles of wabi-sabi and metaphors of grief's brokenness as aesthetic principles, I built the physical structures from my neighbor's broken fence and UW Recycling's discarded wooden shipping pallets. Over my four months of research I synthesized the work of various professionals and survivors' personal accounts to develop my tools for conversation: T.U.L.I.P.S., short for Trauma, Unique, Listen, It's Not About You, Proximity, and Support. Each letter of the acronym got its own display, and they appeared inside the satirical "get well" card each participant chose at the beginning of their visit.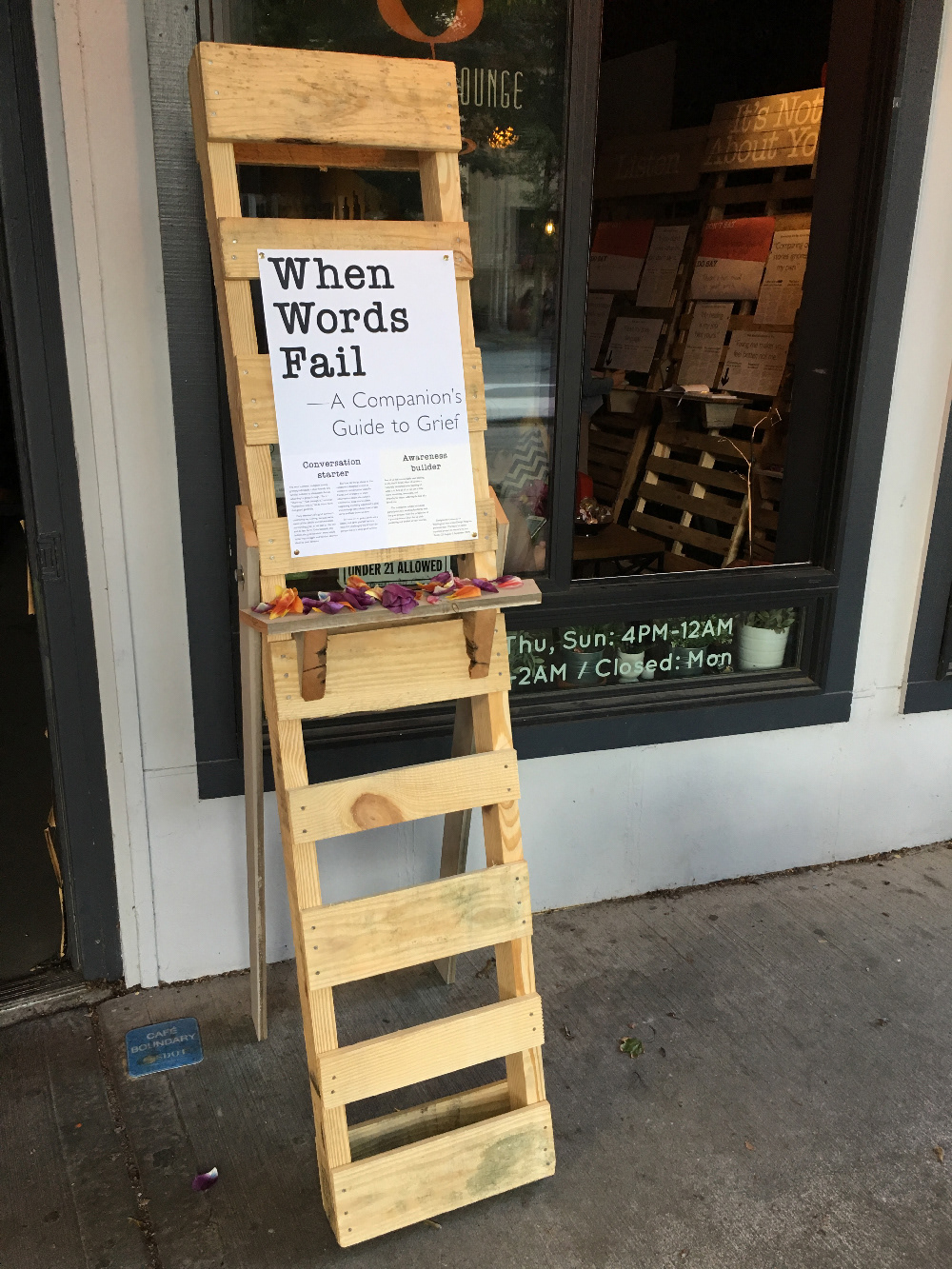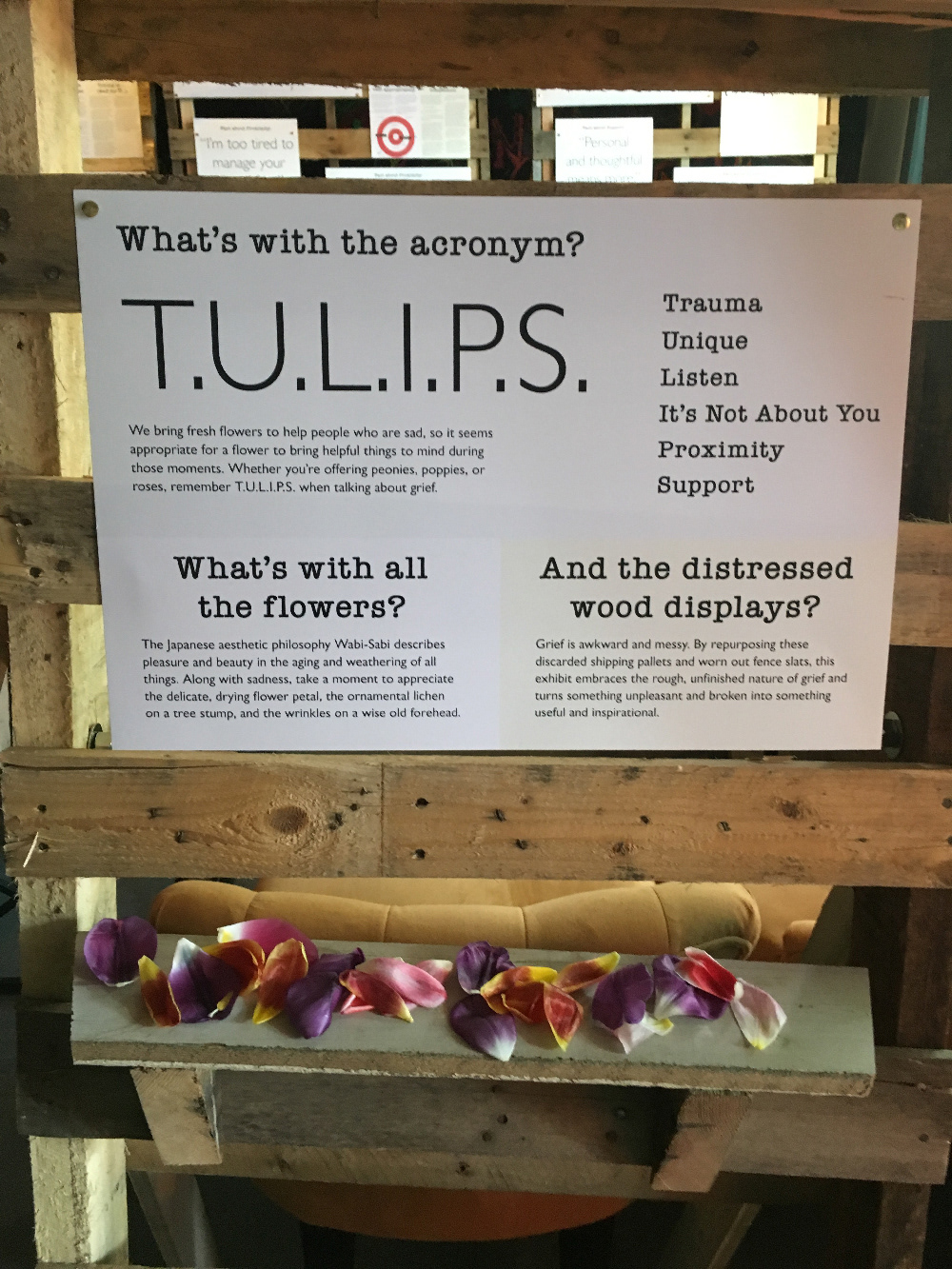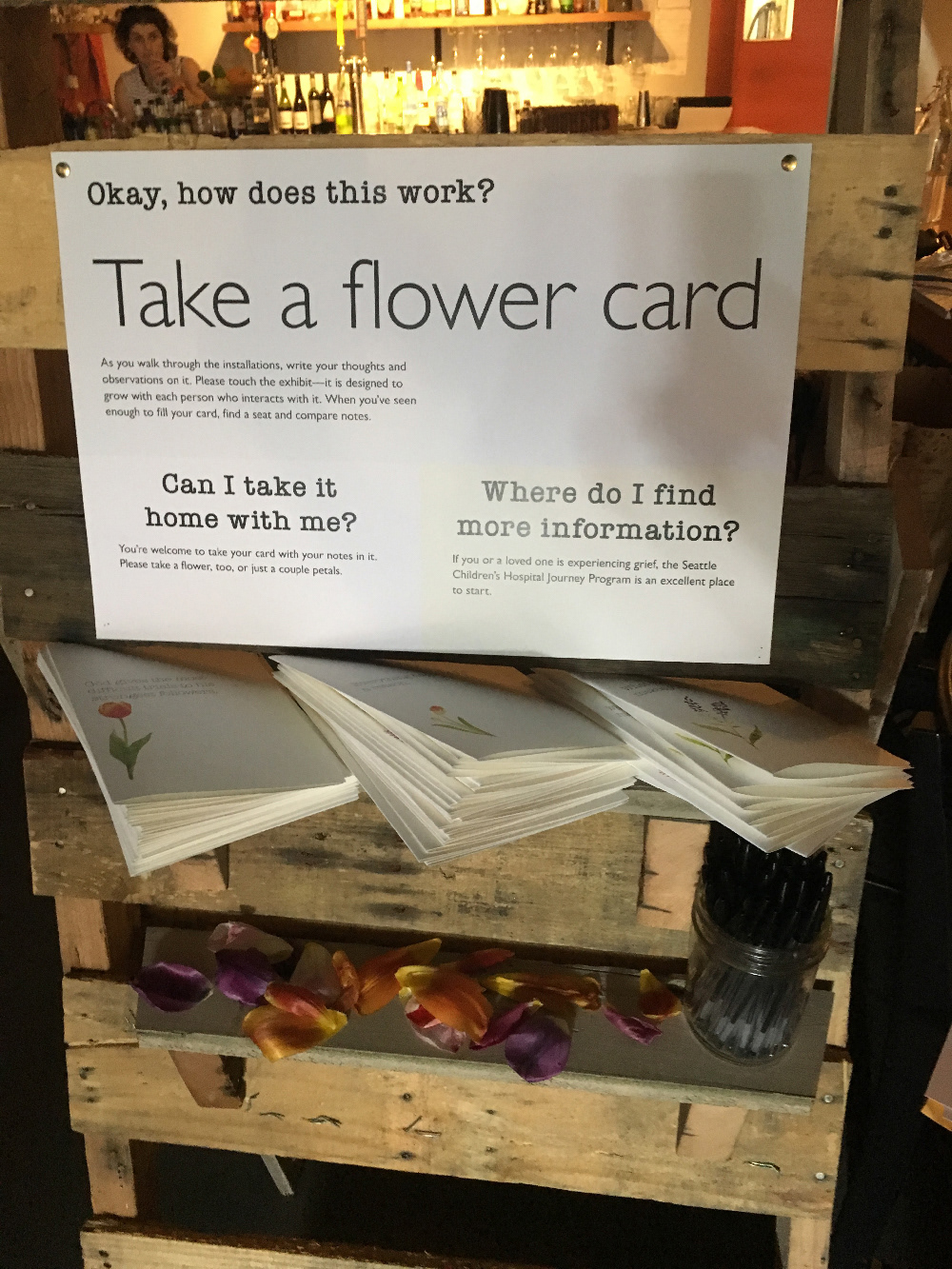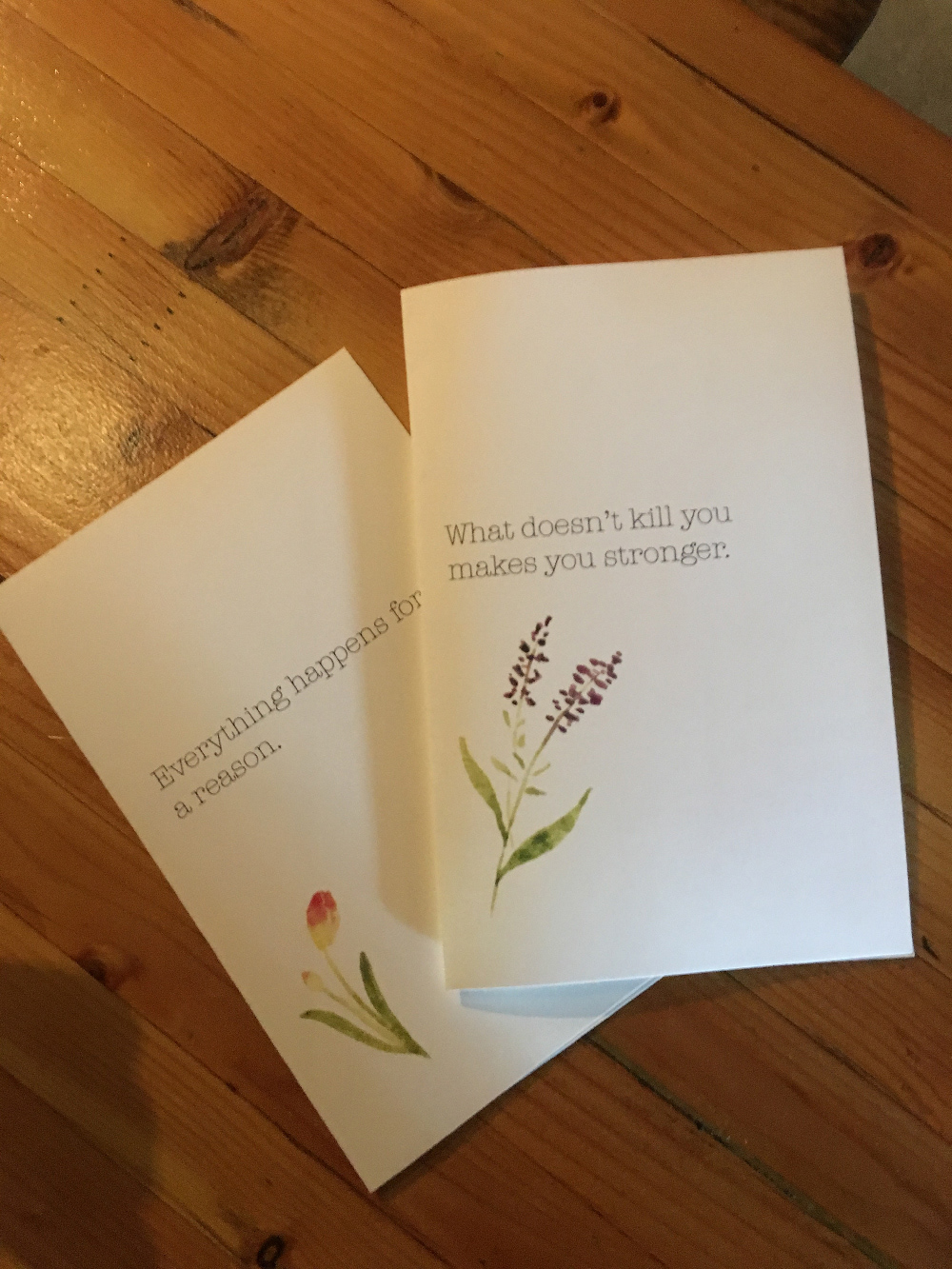 In my attempt to provoke personal conversations, I wrote the content in a casual, first-person voice, synthesizing my own stories with others' to represent an individual surviving the loss of a loved one in a witty, no-holds-barred conversation. Additionally each display featured an interactive experience, inviting participants to contribute their own story to the environment, enriching both their relationship to the exhibit and future viewers' experience.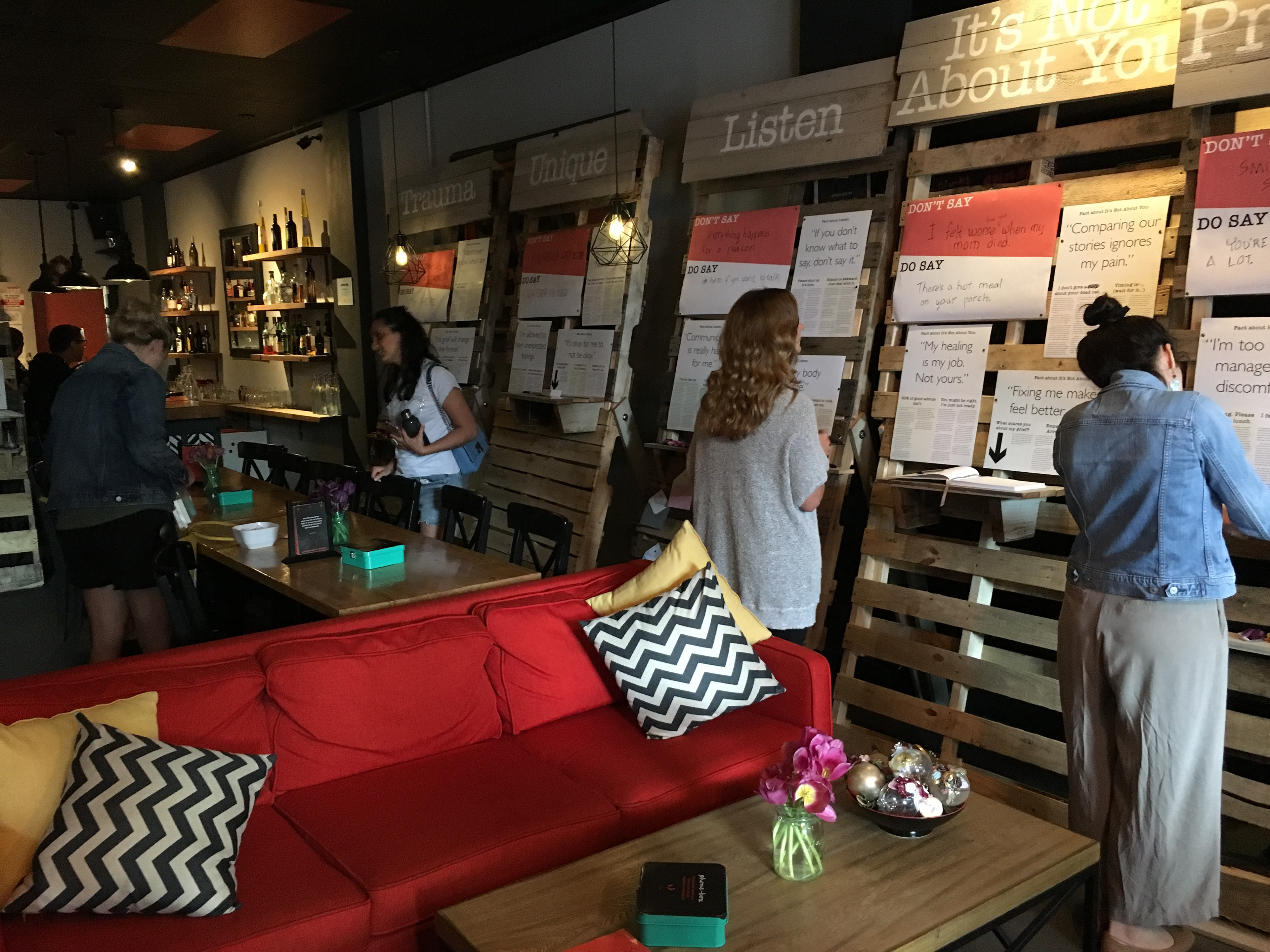 The pilot proved successful. An ethnically, religiously, and gender-diverse audience attended and shared conversations provoked by the displays. "I hear it in my own voice," one participant remarked. Another said, "I see it from both sides now, as someone who's experienced loss and tried to help other people through theirs."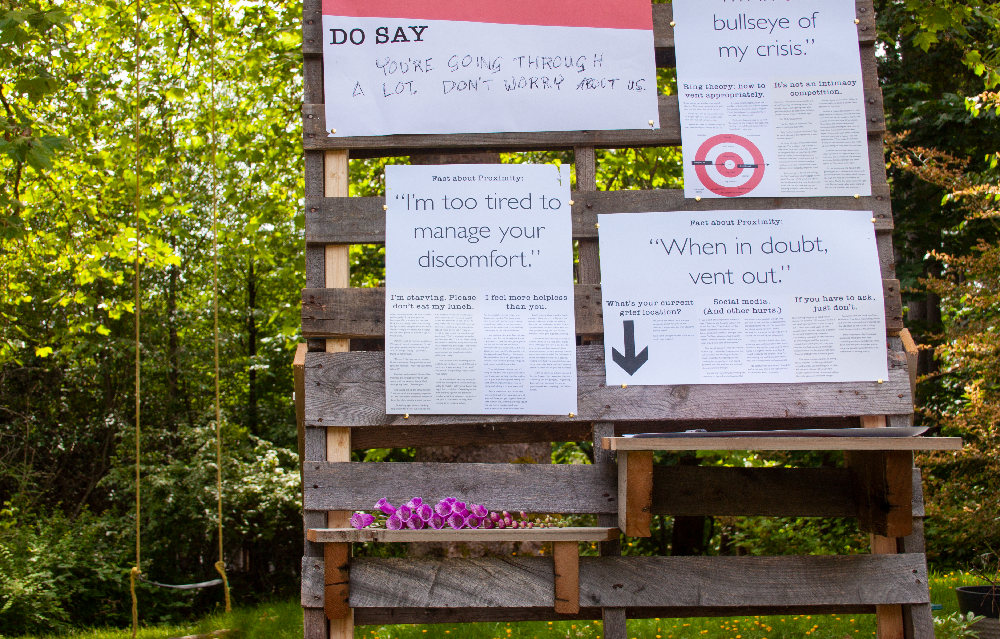 In future exhibitions, I hope for more space to create distance between each display, giving some breathing room for participants as they move to the next kiosk. I plan to "dress up" the wooden frames, sanding and staining them and possibly lacquering them to resemble formal furniture while retaining their broken and irregular construction. I intend to produce a "What next?" interaction at the end of the exhibit, directing participants to a dedicated discussion area. Ideally a conversation facilitator will help participants engage each other, using materials I plan to design for that purpose including simple card-based prompts.
Please feel free to download and share the material itself
here.